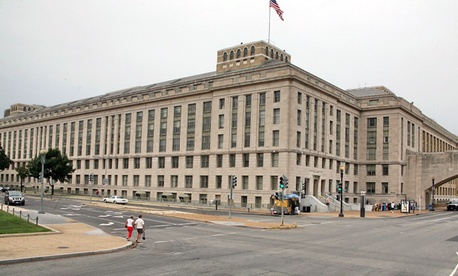 The photo is from a Government Executive
piece
on the House ag appropriations bill, which leads off:
The White House is challenging a move by House Republican appropriators to deny the Agriculture Department any funds in fiscal 2013 for repair and upkeep of its buildings.
The South Building has been undergoing renovation over several years; not sure how far they've gotten. Some factoids about it: used to be the largest office building in the US (supposedly the world), see
wikipedia;
covers two blocks; the legend was the architect had just completed a prison for Michigan or somebody and he used those plans as the basis, may hold about 10,000 of USDA's employees.
It's "South" because the USDA Administration Building (AKA "the ivory tower" of Chet Adell) is on the north side of Independence Avenue. The picture is taken from the NE corner of the intersection of 12th St NW and Independence, with one of the two exits from the Metro's Smithsonian station in the recess just visible. Also visible is the disabled entrance required by ADA, as well as one of DC's food/souvenir trucks.